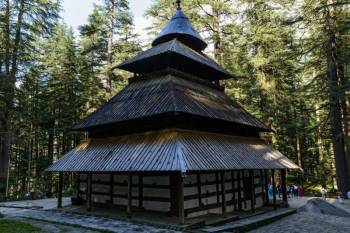 After Leisurely Breakfast, Begin Your Half Day City Tour Visiting Hidimbi Devi Temple, Manu Temple, Vashisht Temple, Tibetan Monastery and Van Vihar Near Mall Road.
at a Distance of 2 Km from Manali Bus Stand, Hidimba Devi Temple also Known as the Dhungri Temple is An Ancient Cave Temple Built in 1553 By Raja Bahadur Singh. the Temple is Dedicated to Hidimbi Devi, Wife of Bhima, One of the Pandavas from Mahabharata Epic.
the Hidimbi Devi Temple is 24 Meters Tall and Consists of Three Square Roofs with Timber Tiles, Surmounted By a Cone-shaped Fourth Roof that is Covered in Brass. the Wooden Facade and Windows of the Temple are Richly Carved. the Wooden Door Frame is Ornamented with Carvings of Various Deities and other Designs. the Walls of the Temple are Strangely Decorated with Horns of Animals. the Base of the Temple is Made of Whitewashed Mud-covered Stonework.
manu Temple Dedicated to the Indian Sage Manu is Located At Old Manali. Manali is Named After the Sage Manu Who Was the Creator of Human Race On Earth According to Mythology and It is Believed that He Meditated Here. this is Supposed to Be the Only Temple of Manu in India.
manu Temple Was Built in Pagoda Style of Architecture. to Reach the Temple, One Has to Walk Through the Slippery Stone Paths of Old Manali for About 200 Mtrs. this Ancient Temple is a Prominent Place of Worship of the Local People of Manali Who Arrive Every Day to Offer Their Prayer to the Sage Manu.
vashist Temple in Manali is Dedicated to Sage Vashisht, the Kula Guru of Lord Rama in the Village Vashisht Across the River Beas. the Village of Vashisht Was Named After Rishi Vashisht One of the Seven Sages of Hindu. the Vashisht Temple is Believed to Be More Than 4000 Years Old.
the Vashisht Hot Water Spring is One of the Famous Attractions of this Region. the Hot Springs is Believed to have Medicinal Value. the Springs are Said to Cure Many Skin Diseases. Many People Go to the Vashisht Baths to Take a Dip and Rid Themselves of Skin Infections and Diseases.
evening Free for Independent Activities or Explore the Mall Road. Overnight Stay At Manali Hotel.